History of the Bean Pot
Boston Region AACA

The Boston Northeast Region AACA (aka Bean Pot) is part of the Antique Automobile Club of America (AACA) and was formed to encourage its membership to acquire, restore and exhibit antique vehicles. In accordance with AACA national guidelines, "antique vehicles" are those that are at least 25 years in age.

The Bean Pot AACA organizes events, tours and exhibitions with the intent of establishing positive and charitable relations in the communities in which it resides. Our membership area encompasses about a 50 mile radius from the center of Boston. This includes the bordering New Hampshire towns and cities. General meetings will be scheduled and conducted in close proximity to Boston, MA.
General membership is open to all persons who are a current member of the National AACA organization. It is not necessary for a member to own an antique vehicle. To learn more about the National AACA, click the button below to visit their website.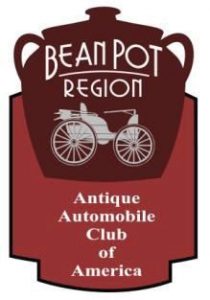 Officers and Directors of the Bean Pot Club are elected by the membership. The current officers are:
President: Bill Pappas (bpappas@beanpotaaca.org)
Vice President: Philip Doucet (pdoucet@beanpotaaca.org)
Treasurer: Howard Loree (hloree@beanpotaaca.org)
Secretary: Philip Doucet (pdoucet@beanpotaaca.org)
If the above buttons do not work for you, please cut and paste our email address (at left) into your email app or client.
Volunteers
Help Us & Have Fun
The Bean Pot Club is always looking for volunteers to help with all our activities, from writing, to managing shows and other activities. As a volunteer, you'll get to spend time with other antique vehicle fans who've been in the hobby for a long time and always have helpful insights to share. You do not need to be a member, and we encourage you to attend our events that are not members-only to learn about the Club.
If you'd like to know more, please contact the Club President or VP listed above. We look forward to hearing from you!