Buying And selling Antique Vehicles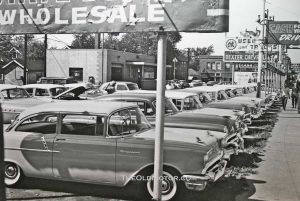 What's the best way to buy or sell an antique vehicle? It depends on how much time and money you want to spend, the kind of vehicle, and how quickly you want the process to happen. We talk about the options in separate "buy" and "sell" sections below and offer some thoughts from our experiences in the hobby. If you don't find what you need, please contact us via our Contact page, or Post in our Forum. We'll try to put you in touch with someone familiar with the make and model in which you're interested.
Please note that the Bean Pot AACA makes no representations as to the opinions expressed and sources mentioned and, as with the buying or selling of any vehicle, you should always exercise caution and due diligence. We cannot stress strongly enough that the best insurance when buying an antique vehicle is to either educate yourself with a lot of reading, or engage someone you trust and who is familiar with the vehicle you're buying, and then do (or have done) a thorough inspection including a long drive at a variety of speeds.
Buying an antique vehicle
Before you start searching, answer these 5 questions.
1. What car do you want to buy? "Buy what you love." Unless you're buying as an investment, that's probably the single best piece of advice you'll hear. It may be the car in which you learned to drive, one you always wanted but couldn't afford (or were too young to buy), or one you saw and fell in love with its style. If you like it a lot, that will keep you going through the inevitable issues that come with owning any antique vehicle.
2. What are you going to do with the car? Some antique vehicle owners just keep them in the garage to look at them, others attend shows in search of awards, and many prefer to drive to a cruise night every week or take them on multi-day caravans covering many hundreds of miles. This decision will impact the condition of what you should consider purchasing, and how much money you'll have to spend (if any) to get the car in the condition you want. If driving the vehicle is of prime importance, try to either drive it yourself or have it thoroughly inspected before purchase. There are many more antique vehicles with beautiful coats of paint than there are with good running drive trains and fully working accessories.
3. What's your budget? Although obvious, it's good to write it down (or arrange a loan) ahead of time, especially if you're going to get involved with an auction where last-minute bidding fever can easily cause you to do bad things to your bank account. Hopefully the budget will cover what you want to buy, but if not, now's the time to revise your dreams. If that 2-door coupe is out of your price range, there's a good chance the 4-door sedan is not. If the 1968 model is too costly, perhaps the '67 is not. Maybe that muscle car will be just as much fun with an affordable small block as with that expensive (and gas guzzling) big block. It's possible to get into the hobby for less than $5,000 and many very nice and excellent quality vehicles, Cadillacs included, can be had for well under $20,000.
One very important note about budgeting. Unless you're absolutely certain that you're buying a perfect specimen, set aside some funds for repair work. Many antiques are poorly maintained (after all, they're at the bottom of the family budget) and often need basic items like tires, battery, tune-up, coolant system flush, brakes and suspension components. This can easily add up to several thousand dollars to make the vehicle road-worthy and reliable. In addition, if the vehicle has been sitting for years, you may also need to drain and clean the gas tank, replace fuel lines, and rebuild the carburetor because modern gasoline spoils quickly and leaves a real mess behind. The ethanol in today's fuel will also damage older fuel pumps, carburetors, and hoses.
In the worst case, and this is especially true of auction vehicles that you're not able to thoroughly inspect, if you want to drive the vehicle regularly it may need to have most of its mechanical systems overhauled. That could mean rebuilding the engine, transmission, rear end, suspension, steering, brakes, and accessories (starter, generator, fuel and water pumps, etc.). And there's also the electrical components including wiring harnesses, gauges, power windows, seats, and so on.
4. Are you a keeper or a trader? Some collectors keep every car they buy forever, while others like to keep changing their vehicles regularly. If you're a trader, you should be looking at the purchase as more of an investment since you'll be wanting to at least recoup your initial cost plus whatever you have to spend restoring and repairing it. If you're going to keep it, the initial cost plus any repair work is less important since you're effectively spreading it out over many years.
5. How much repair/restoration work are you willing to do?
While it's common advice to buy the best car you can, since restoration is so expensive, that often runs into the reality that the cream of the crop may not be for sale all that often, especially with lower production volume vehicles. For many reasons, you may end up with a vehicle that needs a fair amount of repair and restoration work to get it to the level you want. If you think you're going down that road, refer to our section on restoration & repair for some tips. One simple rule of thumb in restoration work is to take the amount you think it will cost and double it. That's because it really is impossible to make an exact estimate for this kind of work, and you shouldn't rely on anyone who is willing to give you one.
Once you've considered the above, it's time to research your choice. An educated buyer is a smart shopper! This is easy these days, as there are lots of resources available to learn about the details of your make and model, and especially what you should expect to pay depending on its condition. Here are some suggestions.
1. Join a club, especially if one is geared toward your interests. There are clubs specifically for Thunderbirds, Corvettes, Buicks, Edsels, Lincolns, Cadillacs, Packards, Model A Fords, and on and on. Individuals in these clubs are often the best way to find a car and help you determine whether it's worth the asking price. Everyone is welcome to join the world's largest group of antique vehicle hobbyists – the Antique Automobile Club of America (AACA), and we'd love to have you join our local Bean Pot chapter too. AACA members own every conceivable make, model and year of automobile ever made. Check our "Join" page for details.
2. Search for information about your vehicle. All the popular collector vehicles have had many books written about them. Learn what options and colors were available, how many were produced, and other useful things to know when you're negotiating a purchase price. Hemmings has published buying guides for many popular classic and muscle cars, and there are many websites devoted to detailing the history of certain makes and models.
3. Check pricing history. Learn how much you might expect to pay from nadaguides.com, and search auction results from the major auction house websites (see list below), but remember it can be hard to determine exactly what the condition of the vehicle was, what options were on it, and how original it is (e.g. is the engine correct for the car, does the VIN tag match the model). All of these factor heavily in establishing the value of the vehicle.
Finally, it's time to find that special car! Although there are innumerable sources for antique vehicles, here are some of our favorites. They break down into publications, dealers, and auctions. There is of course some overlap (e.g. Hemmings has recently started doing limited online auctions).
Publications
classics.AutoTrader.com – Unlike the regular magazine, this is geared specifically towards antiques.
Craigslist – you can specify a year range, e.g. 1955 – 1960, for your searches in the "cars & trucks" section.
Hemmings – the bible of the antique vehicle hobby, both in print and online.
Club magazines – AACA and other make-specific national clubs all have classified sections.
Tracking auction results can be informative. You could visit all the auction houses' websites, but an easier way is to subscribe to publications that cover all the auctions and also provide good descriptions of featured vehicles, as well as track price trends for a variety of vehicles. Our favorite for American cars is American Car Collector (americancarcollector.com).
Dealers
While there are too many antique vehicle dealers to list here, we suggest searching the web for the make and model you seek. Many dealers, as well as private individuals, advertise their vehicles on sites such as:
carsonline.com
classiccars.com
hemmings.com
Auctions
There are both "brick and mortar" sites as well as internet-only vendors. The former often allow online bidding in conjunction with live broadcasts, and watching those can be entertaining and educational. The big names in antique vehicle auctions don't come around the Northeast part of the country very often, so you'll have to travel. But visiting Scottsdale, AZ in January, where 4 of the big auction houses conduct business in the same week every year, is considered by some to be an event worth seeing, even if you aren't going to bid on anything. The well known auction houses include:
Many smaller and regional auctions exist. A good listing can be found at Hemmings.
For online-only auctions, there are:
ebay.com
bringatrailer.com
With any auction, unless you're an inveterate gambler with deep pockets, it's important to know what you're buying. While independent inspections and appraisals are available, the safest way is to either know what you're bidding on and inspect it yourself, or find someone knowledgeable whom you trust to do that for you. And be sure to register in advance to bid, and get a quote for shipping. You might be surprised at what that costs!
Selling an antique vehicle
The best way for you to sell your antique vehicle depends greatly on the value and type of the vehicle, the amount of time and money you want to spend doing it, and how quickly you want to get the job done. To expand on these:
Value of Your Vehicle
This is the single most important thing to pin down before you do anything else as, unless you're conducting a fire sale, it's the minimum amount you should be able to get for the vehicle. Just as it's straightforward to put a value on your house, the same can be done for your collector vehicle because they are bought and sold all the time, and the prices are usually published. Same as your house, though, while the year, make and model (as the size, style and location of a house) are the principal factors, the condition of the vehicle is critical to determining its value. If you sell a house that needs a new heating system and roof, that will factor into reducing the selling price. If your vehicle needs an engine overhaul, rust repair, or other major work, that will substantially reduce its value. And you should keep in mind that major repairs to antique vehicles can easily cost tens of thousands of dollars.
The best way to value your vehicle is to have a professional, independent appraisal performed by an antique car expert. If possible, one who is familiar with your make and model is the best, as they know exactly what to look for.
On the upside, of course, anything is worth whatever someone is willing to pay for it, so if you go to auction with a very desirable vehicle and several bidders are interested, you might get a premium price paid. That's why you'll often see a particular car make the rounds of the auction circuit while the owner waits for more bidding action to raise the price. The downside here is the cost of moving the vehicle from place to place and the cost of attending the auctions if you choose to do that.
The Costs of Selling An Antique Vehicle
The ways to market your vehicle naturally include all of the above listed sources for auctions, dealers and publications. The cost depends on the approach.
Publications: As of when this was written, an ad in Hemmings print version is about $100 per month and will stay online, however, for 6 months. In terms of print media, Hemmings has no equal, and that's where you should start.
Online: There are many online options, such as the ones listed in the "buying" section above. Most will run your ad for a fixed price until the vehicle is sold. Typical cost is $50 – $100. A big advantage of online versus print is you can upload many pictures of your vehicle. A note of caution, however, is that if the pictures are not of good quality and present your vehicle poorly, you'd be better off finding a good photographer to take them. For the do-it-yourselfer, there are good articles about how to photograph vehicles, as well as videos such as the one below, although it only covers exterior shots and you'll want to provide engine bay and interior shots as well.
Auctions: The major auction houses are listed in the "buying" section above. There are a lot of costs associated with selling your vehicle at their auctions, including registration fees (which depend on the auctioneer), transporation fees (including a return trip if the car fails to sell), your cost of attending (if you choose to), and an auctioneer's fee which is typically 10 percent of the selling price (i.e. you'll receive $36,000 if the hammer falls at $40,000). Auctions fall into 2 categories: those with a "reserve" price, and those without. The "reserve" allows you to set a minimum price below which you are not obligated to sell the vehicle (e.g. if the top bid is $26,000 but your reserve was $30,000, you will be taking the car back home). Even in a "reserve" auction, however, you may choose to drop the reserve if you change your mind during the bidding process.
As a result of these high costs, many people use online auctions instead. Everyone knows eBay, which also allows you to sell for a fixed price rather than conduct an auction. The cost depends on a lot of factors (check their website for details), but is typically in the $100 – $150 range. You can sell with or without a reserve. Bringatrailer.com is a much newer service that features a lot of newer vehicles as well as classics, so might not have the best audience for your vehicle.
A tip about auctions is that, even if the reserve price is not met, you can always contact the seller (or auctioneer) afterwards and try to negotiate a deal. You might do a bit better than the reserve price if the vehicle has already been on the market for a while and the seller is anxious to move on to other things (such as buying another car).
Dealers: Antique vehicle dealers usually work on consignment, meaning they will get paid, and pay you, when the vehicle is sold. There are thousands of such dealers in the country and it's best to find one who is interested in the type of vehicle you're selling. A dealer specializing in muscle cars, for example, may not be the best one to sell your Model A Ford. The largest dealers are regular advertisers in the publications and online stores listed in the "buying" section above, so you might check with them to see what they will charge to sell your vehicle. Some will also help you sell through either an online or physical auction.
How Long Will It Take
If you're selling a $100,000 one-of-a-kind classic – of which there may be only a handful in the entire nation – you can wait 6 months to 1 year to find a legitimate buyer. I've personally seen many cars appear repeatedly on eBay where they don't meet the reserve price after countless attempts, even though the car is worth more than anyone is bidding. It's all a matter of timing – you have to wait until the right buyer is actually in the market to buy before you can sell him your car! Prior to that time, all you'll get are the bargain hunters.
The time of year can also make a difference in the price. Many of the largest auctions are conducted in the winter when a lot of the country is covered in snow and people are thinking about how to have fun when it all melts! Most people who have antiques will be driving them in the summer, not trying to sell them. So you're likely to get more of an audience around winter and early spring months.